Cavern of Sorrow (commonly abbreviated as COS, and written as CoS in short) is an fantasy board game role-playing game mentioned in both 3D Universe and HD Universe. It's originally designed by Eugene Anderson and Samuel Okerlund. It was first published in 1974 by Attacker Studios Inc. (AS). It has been published by Besmirtan LLC since 1996. The release of CoS is often seen as the beginning of the modern role-playing game industry. Thanks to the American multinational toy manufacturing company Natty and the Swiss game develoing company LoL Inc. this game is available in various Operating Systems around and it can be playable online too.
(See Cavern of Sorrow page from GTA Fandom)
Description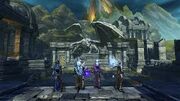 It's claimed to be about ''a secret society of special friends'' and ''art of historicaly greater and bigger moments''. It's majorly based on Dungeons & Dragons,but also it seems like this game franchise bears to many fantasy games such as Clash of Clans, Dante's Inferno and Knights Contract. The copies of the game was sold around the world and became the top-selling game franchise of all time in mostly USA, Canada, Europe and Asia...
The franchise of CoS is also popular in Mexico, to an extent, even if doesn't get much reputation like rest of the North America. They're also Mexican-exclusive CoS sets sold there, with the most-seller of Mexico being Besmirtan do Mexico, based in Mexico City. CoS is also popular in Argentina and Brazil. It was so popular in Brazil that Bordeaux do Brazil have made a commercial including this franchise, based on Brazillian Renault Kwid D&D commercial.
CoS had the cartoon series of the same name and plot, became the popularTV show on 80's, which is directed by Joe Alvarez.
The infamous mobile game Cavern of Sorrow: Next Thing was the third-grossing game app through IFruit Applands in 2014, and it was reported that LOL Inc. projected $618 million in revenues that year. In May 2015, it was in the top 10 most downloaded free apps on both the IFruit App-Lands and Drone Appstore. As of June 2018, the game has grossed $2.73 billion in total.
Locations
In Cavern of Sorrow series, they are various campaigns that takes many places in, as well as taking other stuff from D&D universe. It ranges from accident civilizations to caliphs and khantes The game mostly takes places in the Middle East in many places like, Gorathestan (Based on Egypt, as well as Zakhara), Furzan Empire (Persian Empire/Greater Iran), Sahibitan (Balochistan), City of Marhakh (Aleppo, Syria), Hakiardi Yerkir (Armenia), Devlet-i Alīye-i Ajoyibīye (Ottoman Empire) and especially the other lands were colonized by State of Sodalitas (France), along with others, which is an odd thing. This would may refer Al-Qadim campaign setting, where it feartures Middle Eastern theme, but unlike Al-Qadim, CoS features mixed up cultures and themes, over to the Arabic theme, featuring also Persian, Baloch, Ottoman, South American, South Asian, Samoan and Indian culture. The land names of these countries have ''-stan'' suffix, with is a persian word for ''Land of-''.
Despite these places speak Middle Eastern languages, people in these places can also speak other languages like Tatar (Mishar Tatar dialect mixed with Turkmen language), Romanian, Yazidi, and ironically, English, used for translating for players.
It also takes many other places in Northern Europe like, Kingdom of Novalande (Denmark), Landetav Devpi (Sweden), Karolandenk (Norway) and more other places, which would also have various cues based on various locations like Asgard, Beachy Head, Airds Moss, Aripara Falls, Lesbos and Büyük Ada.
The franchise also features a giant island named ''Gulljarðvegur'' (literally ''Golden Soil'' in Icelandic language), which features richer surroundings, highest peaks and an undisputed fresh sceneries from all diffrent angles. The island itself was based on Madeira Island, majorly from the shape and other stuff, as well as other cues from Metropolitan City of Catania, with the mountains taken from one found in Asia, like the Sølvtopp, which is based on Semenov-Tian-Shansky Peak, Bromear Peak bbbeing based on Boris Yeltsin Peak, Snjóhestur being based on Doi Mae Salong and Græna Höllin being based on Mount Kinabalu.
Gorathestan
Thematically, the land of Gorathestan is a blend of the historical Caliphates, the stories of legend, and a wealth of Vinewood cinematic history. The sacred capital, Backdar (Bakdar-i Sherfun), which is located in Backdar governorate, features rich items, culture and races, along with blessed nature, which includes rivers like Arna-Witun River of Ksarton Coast, Gelgan River Delta and the Gelgan River itself. List of other governorates incluce Sunili, Darvanga, Giliran, Bilgun, Fibrin, Evaros, Shaghri, Fushi, Tikli and Nadasan. In the days of the yore, most of it's areas are under the rule of Kersush of Kerdush. The other rulers in the times of Kersush include Guansima of Yukitza and Hakeesh of Toshupa.
According to the CoS book series of "Across Soils, Creatures and Other Things", the people there worked hard on such things as science, mathematics, astrology, architecture and more.
In 13,000 BC, they signed the agreement "Hadeesh Agreement" with the Tamalian Empire.
Religons
Most people in here where used to belive in the national multi-god state-religon of Gurkhanism (aka Five God Religon), along with Khinism, Hanvarism, Dzekonism and Yermanism; as in the times of the yore.
Gurkhanisim
Gurkhanisim is a fictional multi-god religon that is popular around Gorathestan.
The five gods of the religon are: Tajrahal (God of Wealth), Pushkar (God of Entourage), Sevran (God of Nature), Voshrako (God of Blue) and Shikamro (Gof of Fire).
The spirtual teachers of Gurkhanisim are called "Ustarin Hakk", meaning "Master of the Path". The belivers of Gurkhanisim religon are called "Gurkhi".
Hanvarism
Hanvarism is a philosophical and spiritual tradition that severely prohibits heresy and greed. The name of the religon means several things as "path cleaning", "vision equalizing", "praying with (serious) belief" and "going for peace."
The Auzugh (Qun Doghdu) is the source, pattern, and substance of all that exists in Hanvarism. Hanvarism teaches about the different disciplines that might be used to achieve "perfection" by becoming one with the unplanned rhythms of the universe, which are referred to as "the guide" or "Auzugh."
Furzan Empire
The other dominant reigon, Furzan Empire, is known for underground magic plants, golden temples, fire and more...
It's also known for the caravansaries and being the place to cross at the trade paths like Balsagun Path, Zeyneddin Path, Lemirna Path, Maziata Path, Apke Path and Yarkitza Path.
Religons
Vadhoism
Vadhoism, sometimes known as Khaldarism, is an ancient philosophical and behavioral system that has it's origins from the most part of what's North and West Great Fyurzan Empire. Vadhoism evolved from the teachings of the Salghumese philosopher Khaldar, and has been variously described as a tradition, a philosophy, a religion, a humanistic or rationalistic religion, a style of governing, or simply a way of living.
Buminya
Another dominant region known for it's mountains, horses, unique species and more...
Games (Including spin-offs)
PC and Consoles
Mobile
Sponsor in Sports
Cavern of Sorrow has been sponsored over years after the first sponsor in Liberty City Football Arena in 1991 during a match where LC Cocks and LC Beavers ''challenge eachother again one way or the other''. Besmirtan LLC made it ''bigger'' as the former CEO of Attacker Studios, Vincent Low and ''various wise people'' planed to create an ''major event'' called Cavern of Sorrow marathon, where the winners get sets of CoS products. The Playback FM's DJ, Forthright MC mentions that he had to bring the supplies for the Cavern of Sorrow marathon. And the other version called Cavern of Sorrow triathlon (nicknamed ''Run Wild and Solve It'). It's served various areas around the world in many places like Los Santos, Toronto, Moscow, Oslo, Stockholm, Istanbul, Berlin, Madrid, Münich and more places. Here are various places where Cavern of Sorrow ''Internaitonally Official'' marathons took place in.
1992
1993
Germany, Berlin/June 8
Sweden, Stockholm/August 23
Canada, Toronto/November 7
1994
Portugal, Lisbon/April 25 (known as The Tribute to the Portuguese 25th of April).
USA, Los Santos/July 9
1995
Spain, Madrid/March 10
France, Paris/July 22
USA, San Fierro/September 8
1996
USA, Los Santos/June 5
Russia, Moscow/ August 9
1997
1998
Germany, Münich/May 8
Turkey, Istanbul/June 19
Canada, Toronto/July 30
1999 (known as ''Rush for New Millennium'')
Brazil, Brasília/March 10
Spain, Madrid/July 1
Russia, Siberia/August 30
Ukraine, Kiev/September 27
USA, Liberty City/December 3
Sweden, Stockholm/December 31
2000 (known as ''New Millennium, New Adventures'')
Kazakhstan, Astana (Nur-Sultan since 2017)/May 28
Greece, Athens/June 14
France, Marsellie/August 2
2001
Japan, Tokyo/May 6
Uzbekistan, Tashkent/July 11
2002
United Kingdom, London/June 19
Hungary, Budapest/July 27
2003
USA, Los Santos/July 4
South Korea, Seoul/August 28
2004
Norway, Oslo/March 29
Germany, Berlin/June 5
USA, State of Tequesta, Vice City/July 16
2005
Russia, Tataristan, Kazan/June 10 (known as ''Over a Millennium'') (a special marathon event for the birthday of the Kazan city)
Turkey, Mersin/August 1
Russia, Tataristan, Kazan/November 2 (known as ''One more time for old times sakes'')
2006
France, Paris/May 7
Italy, Rome/July 19
2007
Czech Republic, Prague/June 14
Cyprus, Nicosia/July 28 (known as ''North & South together in the park'')
2008
USA,Liberty City/July 8
China, Shenzhen/August 26
2009
Algeria, Tlemcen/June 18
Russia, Astrakhan/August 23
2010
Latvia, Riga/March 27
Mexico, Yucatan/June 4
USA, State of Huron/July 29
2011
Switzerland, Bern/June 16
Belarus, Minsk/August 5
2012
United Kingdom, London/June 13
USA, Las Venturas/July 30
2013
Poland, Warsaw/May 20
Albania, Tirana/June 29
Moldova, Chișinău/August 14
2014
USA, Los Santos/April 16
Ireland, Dublin/July 2
2015
2016
Turkey, Istanbul/May 17 (known as ''Mehmet Sultan's People's Marathon'') (introduces the announcer climbing on top of the bus before the marathon starts)
Taiwan, Taipei/June 29
Qatar, Doha/August 12
2017
UAE, Dubai/June 25
Saudi Arabia, Riyadh/July 17
2018
2019
Indonesia, Jakarta/June 6
Canada Toronto/July 3 (known as ''Return of the good-old times'')
2020
Japan, Tokyo/July 21
USA, Los Santos/September 5
Germany, Berlin/October 14 (known as ''Return of the good-old Oktoberfest'')
2021
USA, Liberty City/June 6
Ireland, Dublin/July 18
Georgia, Tbilisi/August 29
Commercials
GTA: San Andreas
Radio Commercial
Transcript
This commercial is released in 1992.
| | |
| --- | --- |
| Mom: | Mikey, where are you? |
| | |
| --- | --- |
| Mikey: | Ha, you can't see me, because my invisibility cloak is on! |
| | |
| --- | --- |
| Mom: | Oh Mikey, stop drawing pentagrams on all the doors! |
| | |
| --- | --- |
| Announcer: | The Cavern of Sorrow! |
| | |
| --- | --- |
| Man: | It's the fantasy game that's sweeping the country. The Cavern of Sorrow. Learn about our exciting history and have fun, too! |
| | |
| --- | --- |
| Boy 1: | I'm a holy warrior on a quest. I'll kill you if you don't believe like I do! |
| | |
| --- | --- |
| Boy 2: | You can't beat me, stupid! I'm invisible! |
| | |
| --- | --- |
| Boy 1: | I got invisibility-seeing glasses, dumbass! Lod Zad the Wizard gave them to me, remember? Our adventure at Gash Canyon? |
| | |
| --- | --- |
| Announcer: | The Cavern of Sorrow! |
| | |
| --- | --- |
| Man: | Gather ye friends and embark on historical adventures. |
| | |
| --- | --- |
| Boy 2: | I'll cut your head off with my sword. |
| | |
| --- | --- |
| Boy 1: | Oh no you won't! I've got a metal neck, given to me by Gorath of Backdar! I got it when we traveled to the nether regions of Gorthback. There I had eight wives, forty-seven kids, and other concerns. |
| | |
| --- | --- |
| Boys (together): | The Cavern of Sorrow! |
| | |
| --- | --- |
| Man: | It's not just a game, it's a secret society of special friends. Will you find The Cavern of Sorrow? Or will it find you? |
| | |
| --- | --- |
| Announcer: | The Cavern of Sorrow! |
...
Gallery
Characters

(more coming soon...)