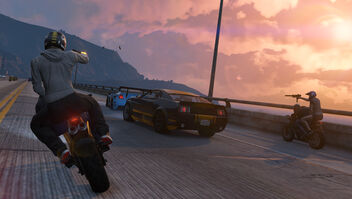 Character Creator
is a main feature in
Grand Theft Auto Revolution, 
it allows the player to create a unique character from the ground up.
The player is given a character upon starting the game which they can then choose their character's race, gender, appearance, voice and name. This process is entirely based on the aesthetic aspect of character creation, which has been greatly improved over Grand Theft Auto Online. Players can now edit facial and physical features in much greater detail or can choose a much simpler process which selects a random preset for the player.
Once players have completed customizing their character's appearance, they have to choose a background. The background chosen will determine the character's statistics, mentality and how the player enters the world of Grand Theft Auto: Revolution. They can choose to also undergo plastic surgery to change up their appearance.
Backgrounds
Background are separated into three different categories. Each providing a unique story, the bodybuilder is only available for male characters due to conflicts with the story. 
Occupation
Architecture and Engineering
Art & Design
Building Maintenance
Business
Community Services
Computer and Math
Construction
Education
Farming & Forestry
Food Services
Health & Medical
Healthcare Support
Maintenance & Repair
Management
Natural Sciences
NEET
Office Administration
Organized Crime
Personal Care
Police
Private Security
Production
Sales
Student
Transportation
Lifestyle
Personality
Customization Options
Race - The player can choose one of five races once they begin the process. (Asian, African, Caucasian, Hispanic and Pacific Islander)
Gender - Only two options are available (Male and Female)
Appearance - Players can customize a variety of aesthetic features (Facial Structure, Skin Tone, Hair and Facial Hair as well as Genitalia)
Voice - Players can choose one of seven voices for their specific gender, each voice is voiced by three different actors.
Voice Options