"Here at Benny's, we understand that it isn't a superiority complex when you really are better than everyone else. And, statistically speaking, if you wear skinny jeans, take pictures of everything you eat, and like using selfie sticks unironically, then you're probably not wanting to convert your run-of-the-mill Weeny Issi to a race-destined, '60's compact rally car—you're doing this so you can cruise around with a ride that screams "accept me for who I am." But if you're not, then get ready to sport a level of raw power and class you never thought was possible."
―Benny's Original Motor Works description.
The
Weeny
Issi Retro Custom
is a two-door retro custom variant of the
Issi
featured in
Grand Theft Auto Online
.
Design
Grand Theft Auto Online
Upon conversion, the Issi assumes an entirely different design, mainly drawing inspiration from the 1967 Austin Mini Cooper S, although further visual alterations to the car (e.g. bulbars, bumpers, and skirts) can allow it to resemble dozens of other classic Mini models, including rally cars, produced in the 1960's-90's.
The car features a distinct retro appearance, and is less rounded and taller than its in-game modern counterpart, and smaller as a whole. The rear fascia is fairly simple, with the tail lamp units and directional lights connected on either side and a chromed bumper.
Current Design Gallery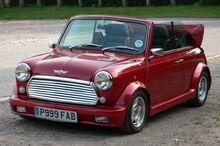 Performance
Grand Theft Auto Online
The car is powered by an engine that seems very similar to the Issi's, being an inline-4 boosted by a supercharger (as evidenced by the supercharged whine heard when traveling at high speeds). Additionally, the engine appears to sound a bit deeper in comparison.
However, one of the most significant changes performance-wise is the transition from a forward-wheel drive to a RWD-drivetrain, effectively improving its ability to accelerate and maintain traction when taking corners. The steering is very responsive, although spin-outs can be frequent if thrown around turns too quickly. However, certain aspects such as the car's impressive top speed and curb weight remain unchanged from the original. Overall, the Issi Retro Custom is easily one of the best-performing compact cars in GTA Online, being closely competitive with the Brioso R/A.
As with the modern Issi, the car's physical resilience and crash deformation pales in comparison to most other ones, with 2-4 head-on collisions possibly rendering the engine nonfuctional or an axle bent.
Modifications
Grand Theft Auto Online
The Issi Retro Custom can be transformed with a wide variety of possible customization options, ranging from a luxury cabriolet to a performance rally car.
- TBA -
Locations
Grand Theft Auto Online
Trivia
The default radio station for the Issi Retro Custom is Non-Stop-Pop FM, similarly to the Issi.
Although the interior visually shows enough room for four passengers, only a driver and a single passenger can be seated, presumably due to a lack of more doors. This can also be seen on some cars such as the Voodoo.
It could be considered the HD Universe's equivalent of the Myni From the Grand Theft Auto: London expansion packs.
See Also
Community content is available under
CC-BY-SA
unless otherwise noted.