Pedro Martinez
Biographical information
Full name
Pedro Ernesto Felix Martinez
Nickname(s)
"Two-Shoes"
Born
July 22, 1964
Citizenship
Colombian, American
Physical description
Hair
Black
Eyes
Brown
Height
1.73 m (5 6")
Weight
96 kg (213lbs.)
Career information
Occupation
Mainstream Trade Market


Blue-collar worker manager


Affiliations
La Élite
Other information
"Funciono estas calles por día"
―"I run these streets by day"
Pedro Felix Martinez
, well known in
Las Venturas
as "El Apretado" or "Two-Shoes", is the primary clean market racketeer lord of
La Élite
and featured in
The After Dark Scene
.
Personality
Martinez is a strict, yet an intelligent individual. Everything he does has a certain finesse to it. He can come off as quite ignorant and rude when getting his opinion across, but he is always confident when doing so. Loyalty runs in his bloodline and was often stressed by his father when he was a child.
He has been in and out of jail multiple times throughout his life and even experienced being involved in a Foster Care system as a teen due to his mother abandoning her kids once his father was left in prison. As he grew up, there were only three things of importance to him: money, loyalty, and power.
Equipment
Clothing
Martinez typically wears tank tops and jeans (which are usually too loose). Sometimes, he wears no shirt, exposing his gang tattoos and markings.
Weapons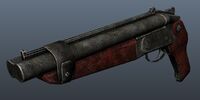 At all times, Martinez carries his trusty sawed-off shotgun he named 'La Léxico', which was the first firearm he ever owned. Although he does use handguns, knives, and brass knuckles at times, he prefers the comfort of a petite double-barrel strapped to his thigh, which is especially concealable under his loose-fitting jeans. Martinez can pull out the shotgun, get two shots off, reload, then store it back in its holster in the blink of an eye.
Transportation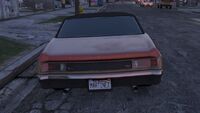 Martinez drives a red Albany Emperor with a gold pearlescent finish.
Background
In The After Dark Scene, Martinez becomes available as a heist crew member or on call if in need of backup. As the game's events transpire, he makes enough money to skip town gingerly. It is revealed in Narco that he ended up in Bison, Liberty.
Narco
Martinez is working with his comrades in Bison by the time of Narco, which begins only two months after The After Dark Scene ends. Towards the end of the storyline, federal agents executed a search warrant on Martinez's home and, when he draws a Browning Hi-Power, is shot to death.
Community content is available under
CC-BY-SA
unless otherwise noted.