CITY


City of San Julio

Appearance(s):
Grand Theft Auto: West Coast

Grand Theft Auto: Desert

Mayor:
Juan Marquez
Population:
1,365,357
Boroughs:
8
Established:
1783
Country:
United States of America
State:
San Andreas
Motto:
"Never Vigilant"
San Julio is a fictional city in the southwestern US in San Julio County within the State of San Andreas in Grand Theft Auto: West Coast and other games. The city is based on San Diego.  San Julio is Spanish for "Saint July".  The city is split into seven boroughs.
Districts/Boroughs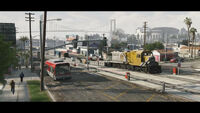 Central San Julio
Downtown San Julio (Downtown San Diego) which includes: Bogota (Columbia), Heart (Core), Columbus Hill (Cortez Hill), Right Village (East Village), Geiser Quarter (Gaslamp Quarter), The Harbor (Harborview, Little Italy (Same) and Waterview (Marina)
Rock Park (Balboa Park)
Auditor Hill (Bankers Hill)
Yates Boundary (Barrio Logan)
Yates Heights (Logan Heights)
Oro Hill (Golden Hill)
Mills Hill (Grant Hill)
Centretown (Middletown)
Abrams Heights (Sherman Heights)
Down Park (South Park)
Dockton (Stockton)
Southern San Julio
The Border (Same)
Easter Highlands (Egger Highlands)
Young (Nestor)
Sea Crest (Ocean View Hills)
Kumeyaay Marin (Otay Mesa)
Kumyaay Marin West (Otay Mesa West)
Tree City (Palm City)
San Huberty (San Ysidro)
Cabrillo River Valley (Tijuana River Valley)
Community content is available under
CC-BY-SA
unless otherwise noted.